Presentation + Persuasion: A Business Approach
IT'S ABOUT THE STORY. ABOUT MOVING AN AUDIENCE TO ACTION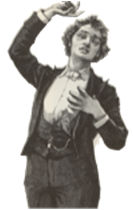 The most important business tool is gentle persuasion. The most valuable communication is still face-to-face.
Successful communication is about the flow of ideas, not about deck of PowerPoint slides. About concept, not lists. About strategy, not gimmicks & templates. About thoughtful simplicity.
Engage, inspire, and move an audience from indecision to action, from disinterest to unbridled enthusiasm. No matter the content. No matter the context.
Convey both information & image.
With skills, techniques & Best Practices, built on two decades of experience. Backed by research in visual learning, cognitive psychology, and instructional design.
THE BOTTOM LINE

See results and enjoy ROI immediately. Recoup every penny you invest...almost immediately.
Increase quality and impact immediately
Streamline development time
Be more persuasive, engaging, impressive
Avoid pitfalls that derail presenters
Deliver with confidence, poise, and control
Eliminate post-presentation regret, "I wish I had…"
AN OFFER YOU'D BE SILLY TO PASS UP
Send us a typical presentation. We'll do a free, no obligation review.
If we like what we see, we'll tell you why. If areas can be improved, we'll tell you how.
Contact us for details.