ABOUT US
A WORD OR TWO ABOUT WORD-OF-MOUTH ™ and PresenSuasion ™
The Word-of-Mouth™ model was developed in the 1980s by Chuck Goldstone for the United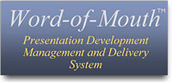 States Air Force, and soon after was adapted for a broader corporate market.
The approach has continued to evolve, with even more emphasis on the structure and impact of story and in emerging research in areas of adult learning, retention, neuropsychology, cognitive load, and the science of decision-making. It incorporates three decades of best practices, gleaned from the best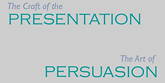 companies in America.
Goldstone's approach has been adopted by industries and organizations in nearly all business sectors and has served as a foundation course for a graduate course at the University of Massachusetts.
A FEW WORDS ABOUT CHUCK GOLDSTONE

Author. Communications Strategist and Consultant. Radio Commentator. Creativity Catalyst. Developer of Training and Education. Writer. Video and Film Producer. Business Presentation Coach-Mentor-Presentation Doctor. Keynote Public Speaker.
Chuck Goldstone was founder and CEO and Chief Creative Officer of !deaworks/!deaCorporation

of America and Chuck Goldstone Communications. During the past three decades, he had the ear and trust of senior management at some of America's most prestigious organizations. Goldstone has been a consultant and concept catalyst for domestic and global firms. As a film and video producer, he has written and directed nearly 1000 programs for clients and their audiences, reaching millions of eyes in the Americas, Europe, and Asia.

He is a a radio and television broadcaster. From 1996 to 2005, he was a nationally recognized commentator heard on over 400 public radio stations on Monitor and Marketplace. Today, he is a popular and regularly heard radio and TV guest and keynote speaker.

Chuck has taught at some of New England's most respected colleges and universities. He holds an M.Ed from Boston University in Instructional Design and Technology.

He is a humorist and author of THIS BOOK IS NOT A TOY! FRIENDLY ADVICE ON HOW TO AVOID DEATH AND OTHER INCONVENIENCES (St. Martin's Press. New York). His works have also appeared in an anthology SNAKES: AN ANTHOLOGY OF SERPENT TALES along side the writings of George Plimpton, Molly Ivins, Dave Barry, Jim Lehrer, and classic writers Arthur Conan Doyle, Rudyard Kipling and Mark Twain.
GOLDSTONE'S OTHER LINKS
Link to Chuck Goldstone Communications/!deaworks www.goldstonecom.com.

Radio and Authorship www.chuckgoldstone.com